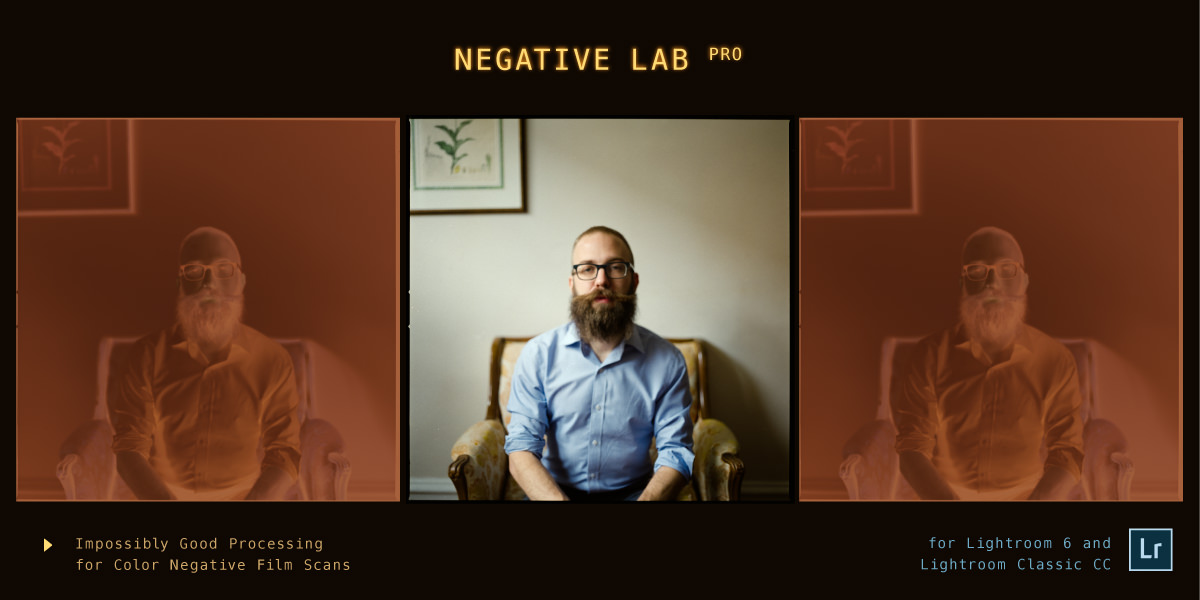 NEGATIVE LAB PRO v3.0.2
$99.00 USD
NEGATIVE LAB PRO V3 brings impossibly good color negative conversions right into your Lightroom workflow. No more messing around with tedious exports and hand-edited curves. Lab-quality tones and colors are just a click away.
You'll get:
1-Click Negative Conversions in Lightroom
Roll Analysis, for accurate, consistent conversions
Intuitive, Non-Destructive Editing Tools
Advanced AutoColor and Tonal Control
Batch Convert and Edit Multiple Negatives
RAW Camera Profiles for Digital Camera Scans
Vuescan + Silverfast RAW DNG profiles
Lab Scanner Emulations
Film Metadata Tools
Requirements:
Lightroom Classic (or Lightroom 6.14 standalone)
Mac or Windows
BUY NOW - $99 USD
*VAT tax may be added in some countries.
Upgrading from v2 to v3? Use this link. NOTE: you must use the same email address you used to originaly purchase V2.
Pssst... Have you tried the FREE TRIAL Download yet? It's the full program with no watermarks, it just restricts your use to 24 conversions. I strongly encourage you to try the free download first!
---
FAQs
---
I want to use this on both my desktop and my laptop computer. Is that possible?
Yep! Your license will allow you to unlock and use NEGATIVE LAB PRO on up to 2 computers that you own. If you need to switch or upgrade computers, you can deactive a a license from within Lightroom's plugin manager ("file > plugin manager").
---
I may switch my scanning setup in the future (for instance, from a flatbed scanner to DSLR scanning)... will I need to buy anything else when I do?
Nope! Negative Lab Pro includes everything you need no matter your scanner or setup. (I always thought it was kind of ridiculous that some scanning software charged you again for changing setups!) If you find that your setup is not supported (for instance, if I don't have a camera profile for you yet), you can email me at nate@natephotographic with samples of your setup, and I'll add compatability.
---
Are updates included?
Your license includes any updates within that major version (for instance, your V3 license will include any future V3 updates, like v3.1, v3.2 etc). Additionally, any major updates released within 6 months of your purchase will be included free.
---
How will I know about future updates?
You will receive email notifications when new updates are ready. Additionally, I often release early beta version for user testing on the private Facebook group.
---
Do you offer a student discount or educator discount?
Yep! Just email me some form of verification (like an ID) to nate@natephotographic.com and I will send through a link for the special discount.
---
Will this be compatable with future versions of Lightroom?
Yes - as long as Adobe continues to allow for plugins (and doesn't break anything in their sdk), I will make sure NEGATIVE LAB PRO is maintained to be compatible.
---
Will this continue to be compatable the old, perpetual version of Lightroom 6.14?
Yes - I will continue to keep NEGATIVE LAB PRO compatible with LR 6.14 (the last version of standalone, perpetual Lightroom). With that said, sometimes new features will only work with more recent versions of Lightroom Classic.
---
When I go to pay, it adds VAT tax to the price. Why is that?
The payment processor I use (lemon squeezy) automatically adds VAT when you go to pay. Sometimes this incorrectly assess you with VAT tax. There's no way on my end to correct this. If this is happening to you, you can paypal me directly here. Just leave a note that it for NEGATIVE LAB PRO, along with the email address you'd like the license to go to. I'll then process the license for you manually.
---
It won't let me pay with a paypal balance. Is there a way I can do that?
Yep! You can use this link to pay directly with a paypal balance. Just add in the paypal notes the email address you would like your license to be registered to. I have to hand-process these requests, so typically you will receive your license within 24 hours.
Other questions? Let me know at nate@natephotographic.com!
---
Ready to unlock NEGATIVE LAB PRO?
BUY NOW - $99 USD
*VAT tax may be added in some countries.